ENDU'RHÔNE
X-MTB GUIDE certified rideologist – Enduro trip along the Rhône

As Enduro enthusiast, living in a region predisposed to MTB, it was natural to develop an activity in this direction. The Valais is known for its pleasant climate and its prestigious mountains. I propose you to discover the most beautiful trails on both Rhône valley sides by using public transport and cablecars in order to ensure an « ascent-descent ratio » that favours the RIDE.
In addition to ride incredible trails, we will take the chance to discover the local « terroir » and many cultural aspects that are very present in the Valais. Fauna & flora, glaciers, meteorology, Walser's tradition, Kaspar Stockalper, hydro electricity installations, mountain agriculture, local culinary specialities, tradition of wine and vineyards will no longer hold any secrets for you after this stay.
There are many options of possible trip. We propose to do the Rhône descent in two trips of 5 days each. The first part will allow you to discover the wonders of the « Oberwallis », from the Furka Pass to Leuk. The second trip will take us from Sierre to the Leman Lake, to discover the « Central » and « Bas-Valais ».
Depending on the riders' abilities, the season, the snow conditions on high altitudes and the weather, we will adapt these trips to meet your expectations.
There is also an E-bike version of these trips.
We look forward to ride the most beautiful trails in the region with you.
Xavier Fournier

TRAILS
The Enduro focuses on downhill and single trail riding. The DNA of mountain biking.
TRANSPORTation
This trip is « Eco-friendly ». We are mainly using public transpartion to get up to the rides.
ACCOMODATION
Cosy and typical accomodations with flexible rates according to your standards and budget.
Oberwallis – FURKA TO Leuk
5 days trip Oberwallis
Warm up on one of the top ten trail in Switzerland, starting in Leukerbad. Thermal resort with 51°C water and very good accomodations.
From the Rhône (Rotten) Glacier down to the Goms Valley. On the « Walser »'s tracks. We will not forget to try the local pastry: the « Cholera ».
A bit of DH sessions in Bellwald (Swiss Downhill Cup) and already a wheel in the famous « Aletsch Arena » (UNESCO).
You will discover an amazing tour and ride along the biggest glacier of the Alps all the way down to the valley floor. A big day out in the mountains !
With typical swiss public transports (train + fancy cable car) and a bit of muscular energy we will reach Moosalp and find some secret singletrails to ride down to the Rhône valley.
Price: Ask for an offer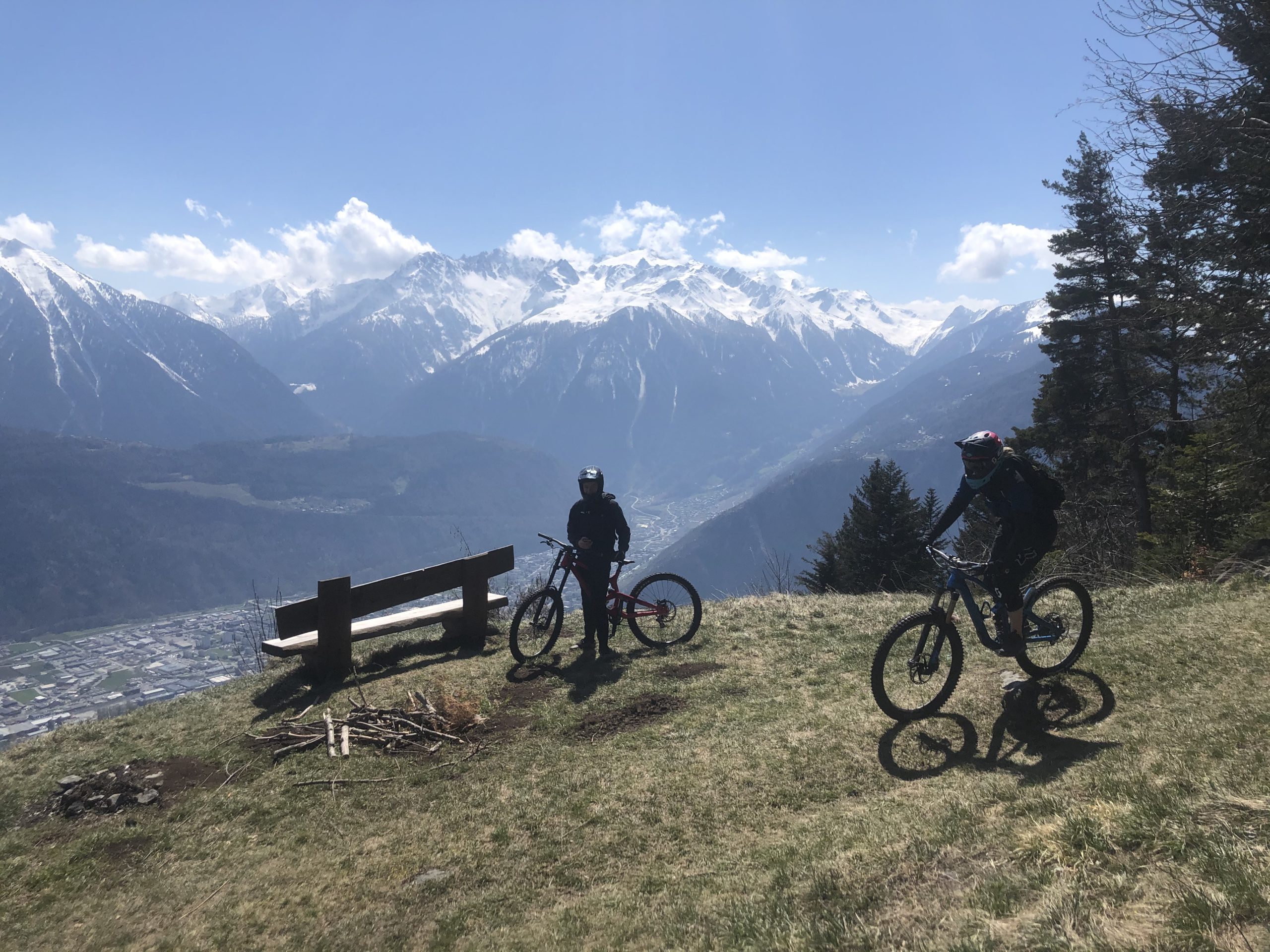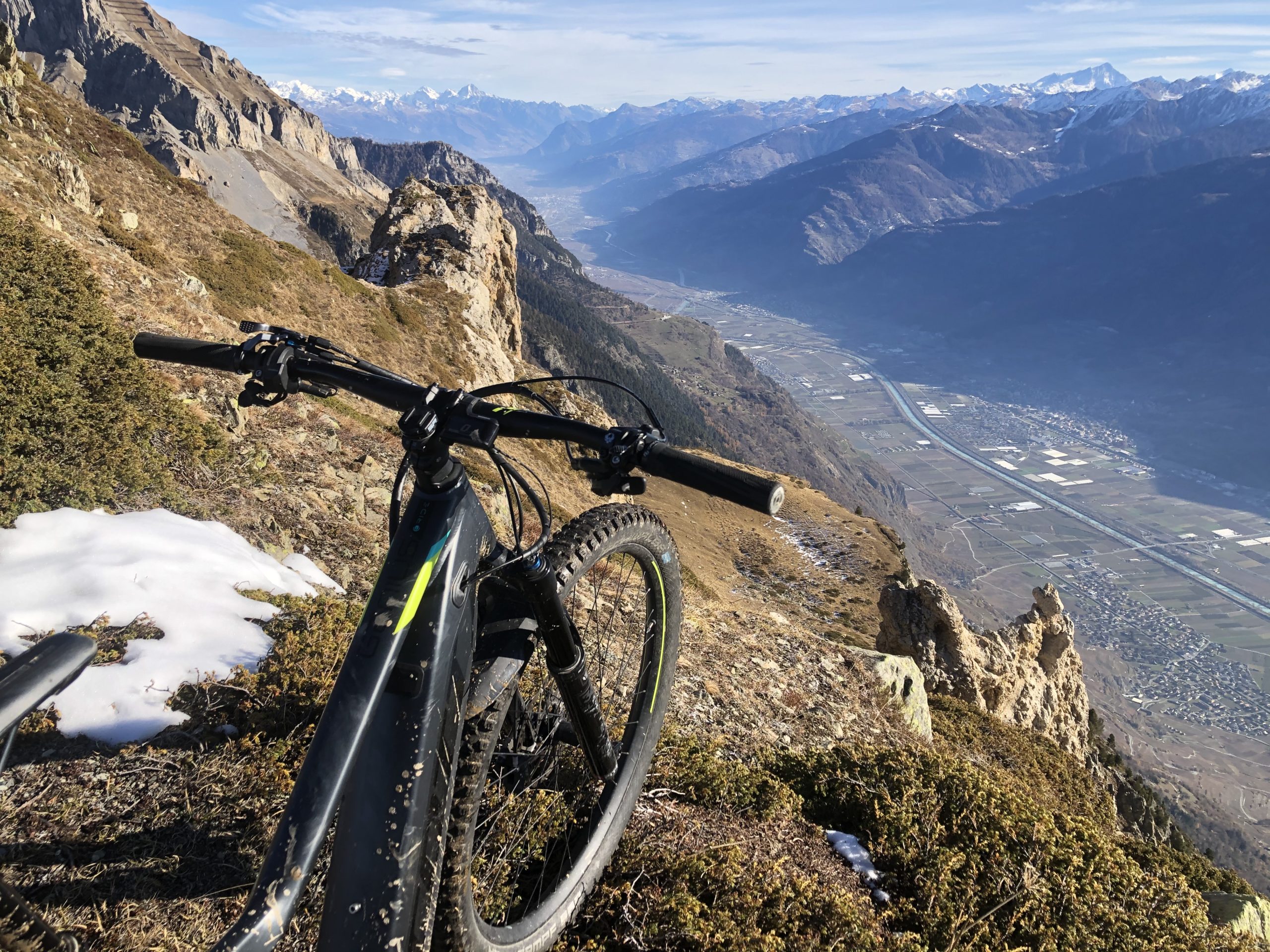 Valais central & Bas-Valais – Sierre to Leman Lake
5 days trip Valais Central & Bas-Valais
Warm up run from Chandolin down to Sierre. We are riding from one of the 3 swiss highest village down to the warmest place (sometimes T° record more than 36°). Your brake pads might be even warmer !!!
Highest altitude of the trip ! From 2927m down to 485m. Glacier, alpages, forest, vineyard, historic town, apricots, wine, cheese and beef… A long and enjoyable tour!
During this day we are traveling across the « 4 Vallées » (Nendaz – Verbier). You'll end up on top of a famous peak with a huge aerial view of the Valais/Wallis and one of our top five freeride session.
A big day from Martigny to Villars, in wild places. Many different options, but a nice one is to start nearby the French border down to Vernayaz. You will understand how important are the hydro electricity installations in Valais/Wallis. If you still have energy on the second part of the journey we can do a few laps on the famous freeride runs Barboleuse-Bex. Another option could be a DH session in Dorénaz and a lift + pedaling to Morcles to ride from a mountain hut with lake view to Bex.
After an amazing flowy descent to Aigle, we will take the train/cablecar to la Berneuse. That will be the last incredible ride of the Endu'Rhône down to the Leman lake.
Price: Ask for an offer
Enduro, E-bike, DH, Worldwide adventures, Local discoveries… We'll be there.
X-MTB GUIDE certified rideologist
Head Office
Rue des Follatères 6, Branson
1926 Fully, Switzerland
EMAIL US
info@x-mountain.ch